Client Spotlight: Veronica B.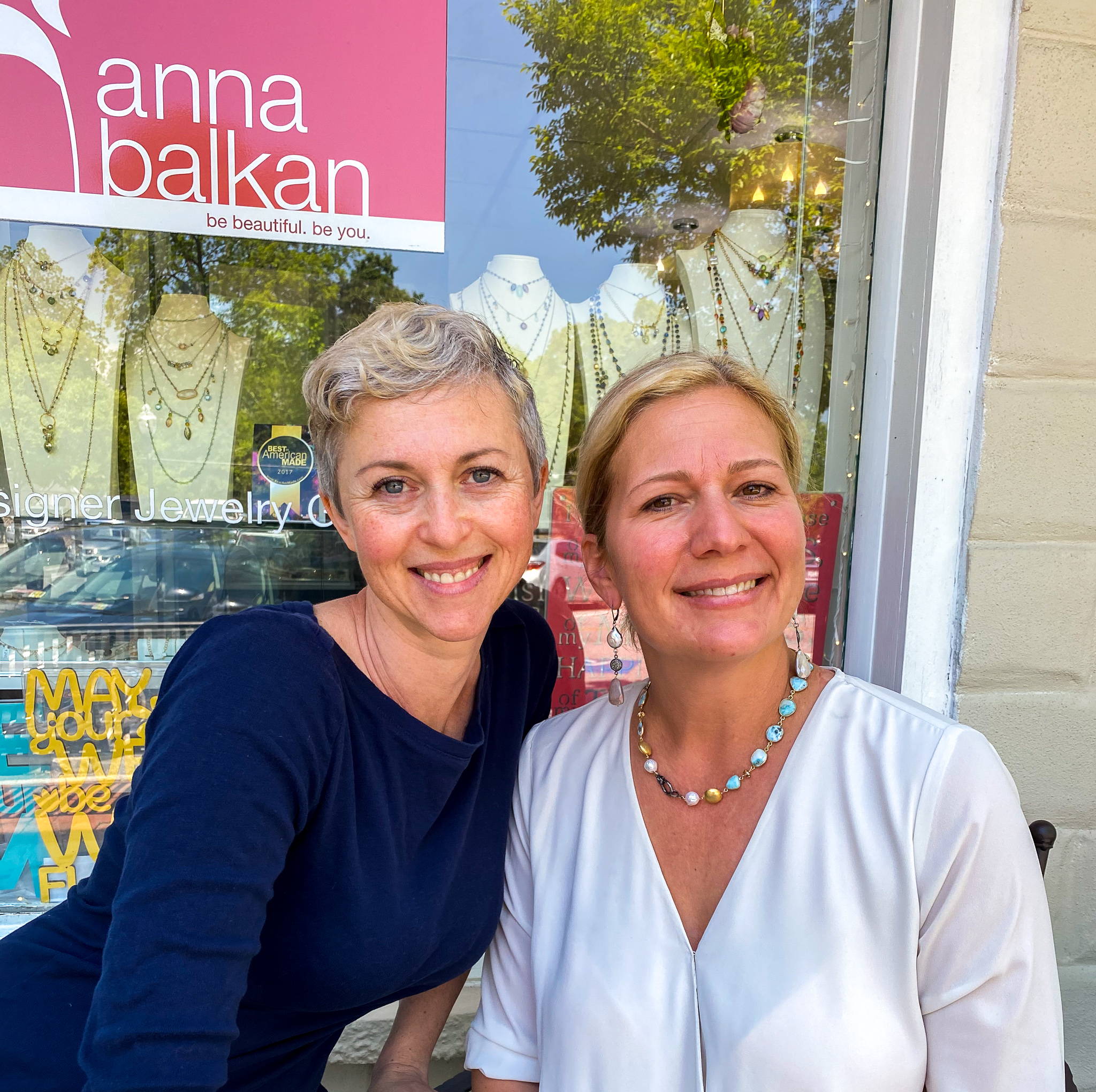 Hi #BeautifulAndCapable!
At Anna Balkan Designer Jewelry Gallery, we love celebrating capable and beautiful women. With that being said, we decided to start our very first client spotlight of the year to celebrate the women that have not only been our customers, but became our friends and stood by us during these hard times of closure and uncertainty.
Our relationship with Veronica started off with her coming once or twice, then as her being a frequent shopper in our store and eventually our relationship blossomed into a close friendship. Nine years ago, Veronica was introduced to our jewelry by one of her friends that purchased a piece in Birmingham, AL. After falling in love with her friend's jewelry, they both decided to venture to our location here in Historic Norcross and she's been a loyal customer ever since. Knowing how much she loves our store and Anna's jewelry, we wanted to interview Veronica and share with you her experience and what keeps her coming back. Enjoy this glimpse into the life of Veronica as we celebrate our first client spotlight of 2020!
Veronica was interviewed by Ingrid (Styling Expert)

Ingrid: "Can you describe your shopping experience at the gallery?"
Veronica: "The first time you step into the gallery, the girls start learning about you. Which collection you gravitate towards, which styles and they can help you while in the store. I also love that when a new piece is created, these same wonderful ladies reach out to share the newest treasures that they know I will love. This touch of personal shopping makes my experience absolutely wonderful! I absolutely recommend shopping at the gallery! The color and quality of the jewelry brought me in, but Anna and her girls keep me coming back. I feel like family."
Ingrid: "What matters the most to you when you are shopping for jewelry?"
Veronica: "I want to know I am getting quality pieces. I have many pieces that I have owned for quite a few years. I can bring those pieces in for polishing or (on occasion) if I have broken something and Anna fixes it, no questions asked. I want jewelry that makes me feel special too. I am always getting complements. I travel quite a bit with my job. I have ladies all over the country asking me where I got my earrings, etc.
It is such a great feeling that I have something special and I love sharing how folks can get in touch with Anna too!
Ingrid: "What is your favorite piece from your collection of Anna Balkan jewelry?"
Veronica: "That is a very difficult question – I have many favorites. It really depends on my mood. One thing that I do that is probably very different than most people; I pick my jewelry and then build my outfit around what pieces I want to wear.
Ingrid: "What do you love about your Anna Balkan pieces?"
Veronica: "I love that everything coordinates, and I can put different looks together by changes up a piece or two."
Ingrid: "Lastly will you let our readers know how you would describe your style?"
Veronica: "I would say it is Electric but with a polished aspect."
More about Veronica:
Favorite Anna Balkan Piece: Long Statement One of a Kind Earrings
Favorite Place to Eat in Norcross: Zapata Tacos (best Mexican place!)
Seasonal Style: I am a natural Fall but also shop Spring. I gravitate towards Geisha as well as Bohemian Rose Collections. I follow traditional clothing styles and do swap up my jewelry based on the season. I have key pieces to help accent all seasons, specially summer and winter seasons with most diverse wardrobe styles.
Go to Drink: Martini, a little dirty with blue cheese olives
Hobbies: Home renovation, raising chickens, lake sports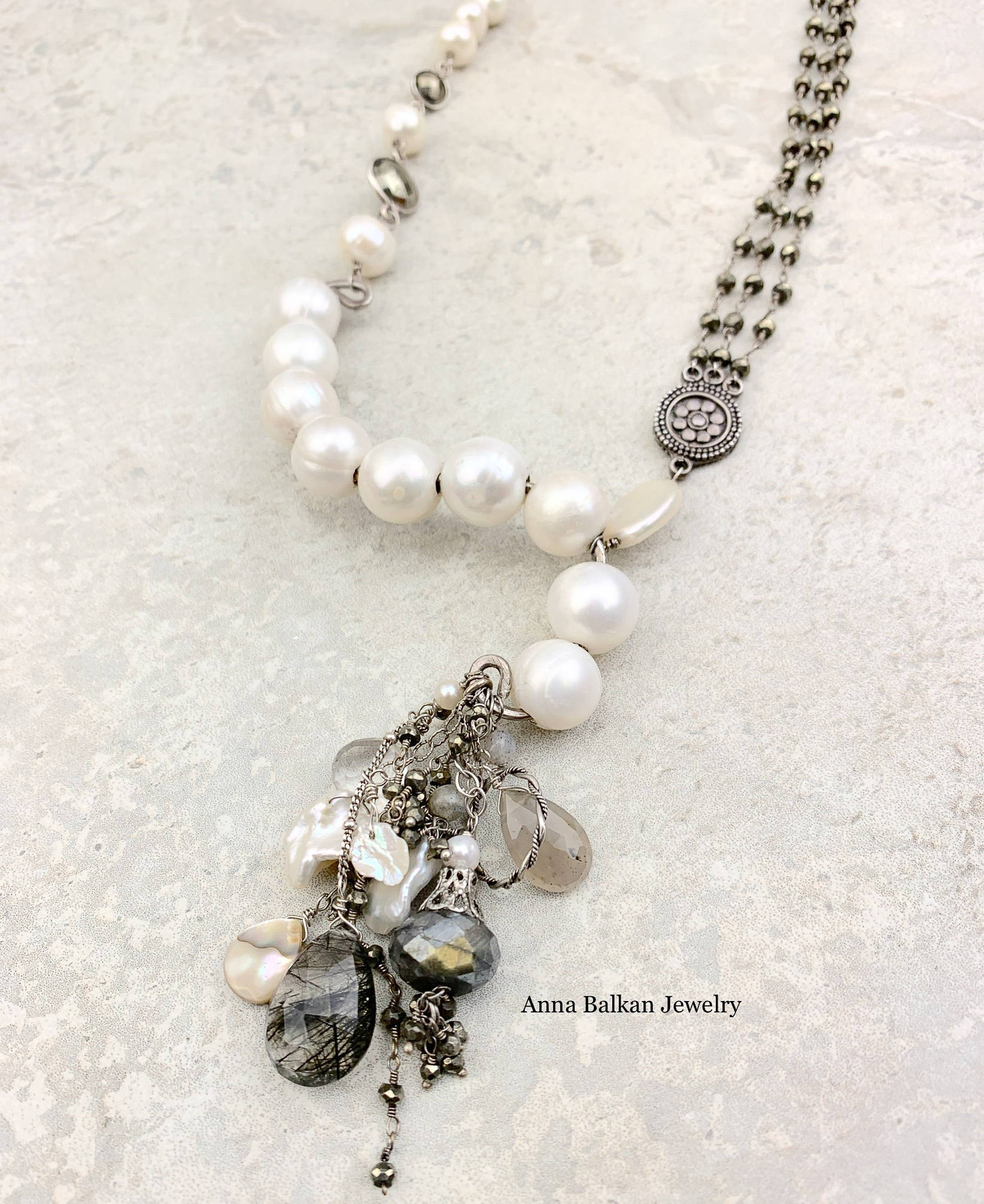 This is just one of MANY of One Of A Kind Pieces Veronica owns!
This piece is her most worn and loved for it's uniqueness and style, that complements any of her outfits.
Note from Anna: "The One Of A Kind Collection is by far one of my favorite collections to offer at my store, because my clients know that they are truly unique.
And I get to custom create for my clients as well! This stunning Larimar set Veronica and I have co-designed during our closure, and it's colors are a perfect reminder of power of positivity and beauty.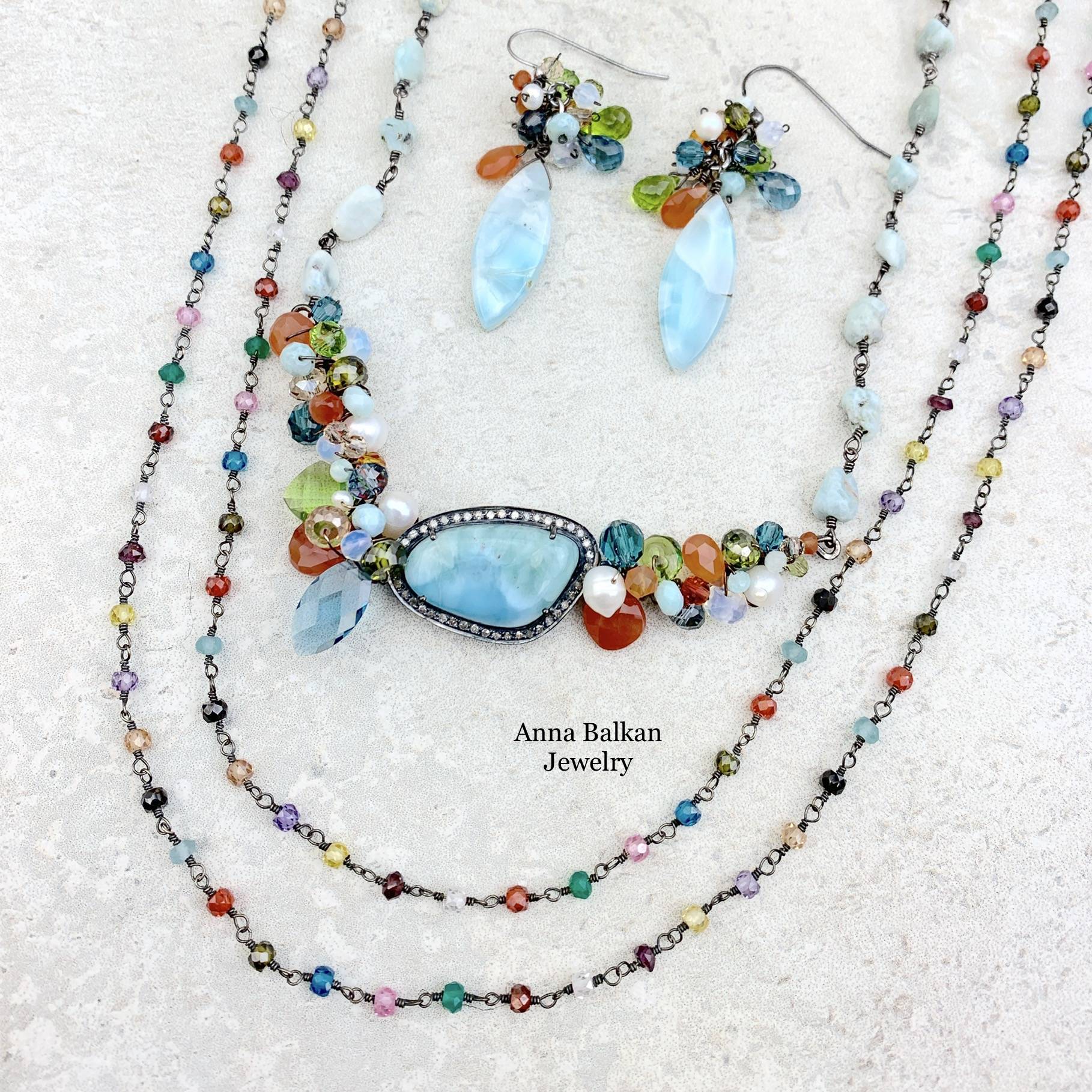 Anna: This was a truly unique experience I had with Veronica! While in my studio designing jewelry, Veronica stopped by to visit me and found herself in-love with Larimar and Diamonds pendant, and while keeping Anna company (6 feet apart!), she was immersed in a world of color and curated her very own color combination that she wanted Anna to turn into a necklace. Based on that and knowing her taste in jewelry I created this beautiful set! And she got to pick how we would finish it (we added Larimar on oxidized silver and styled it with multicolor Katie Rosary from my PopArt Collection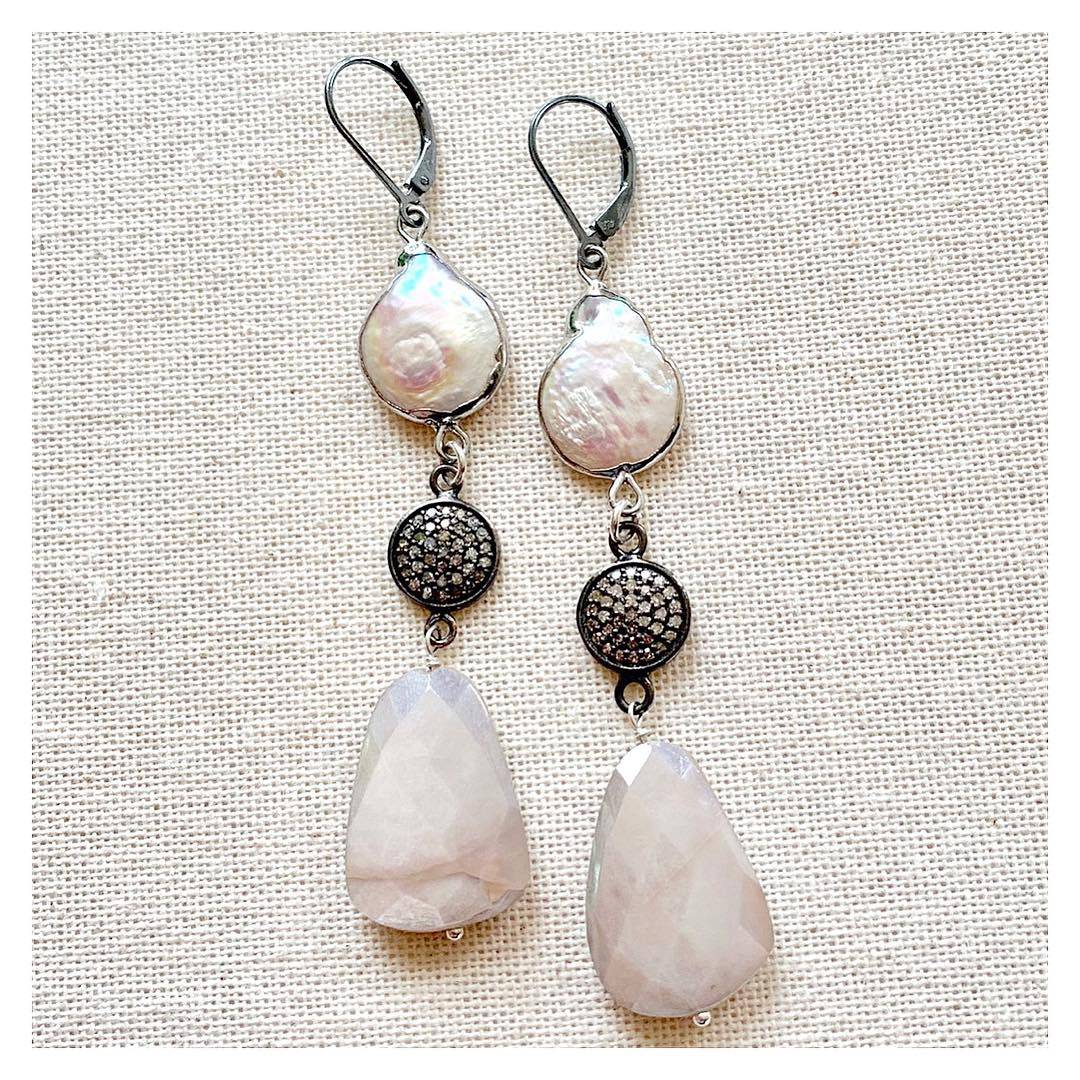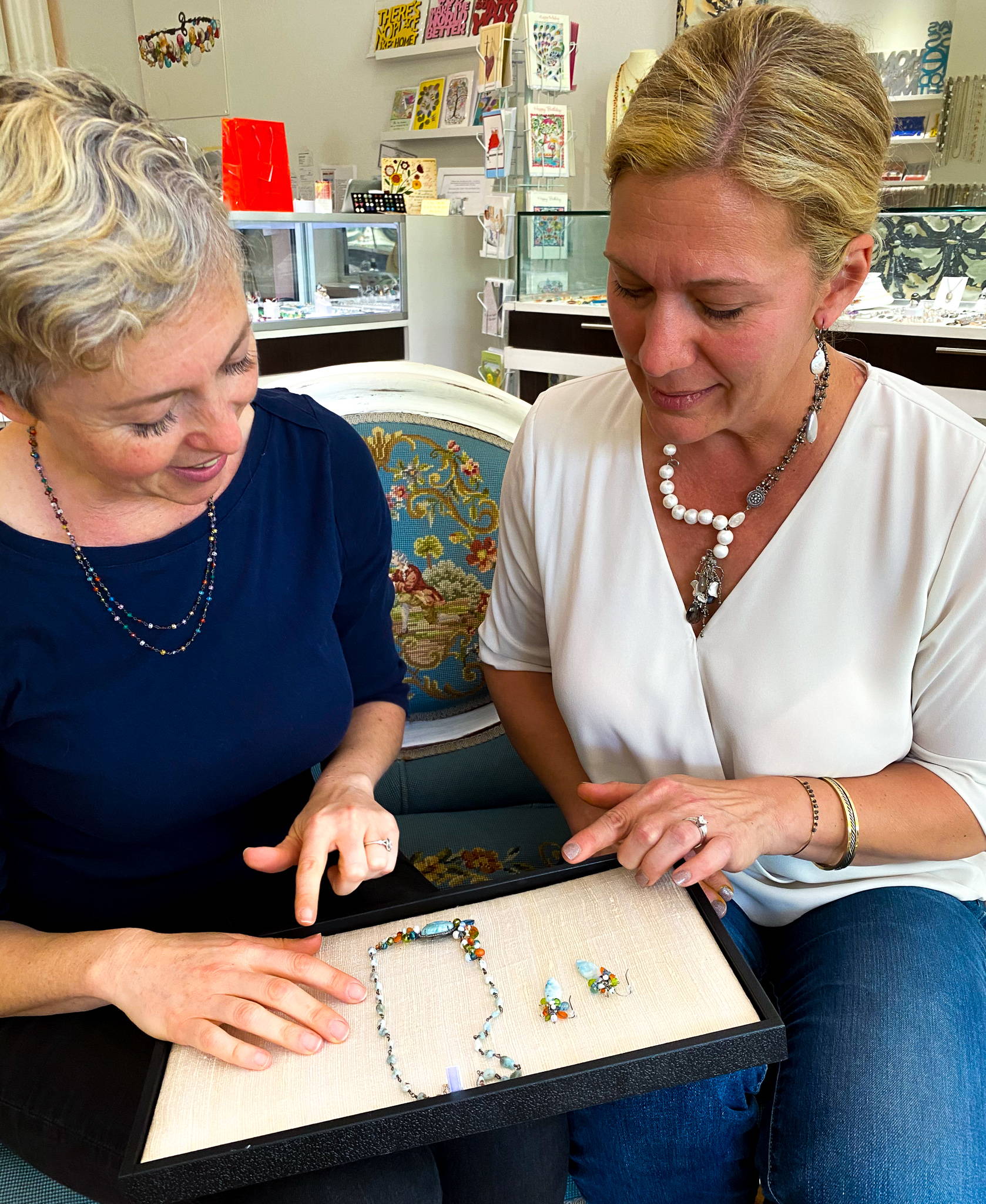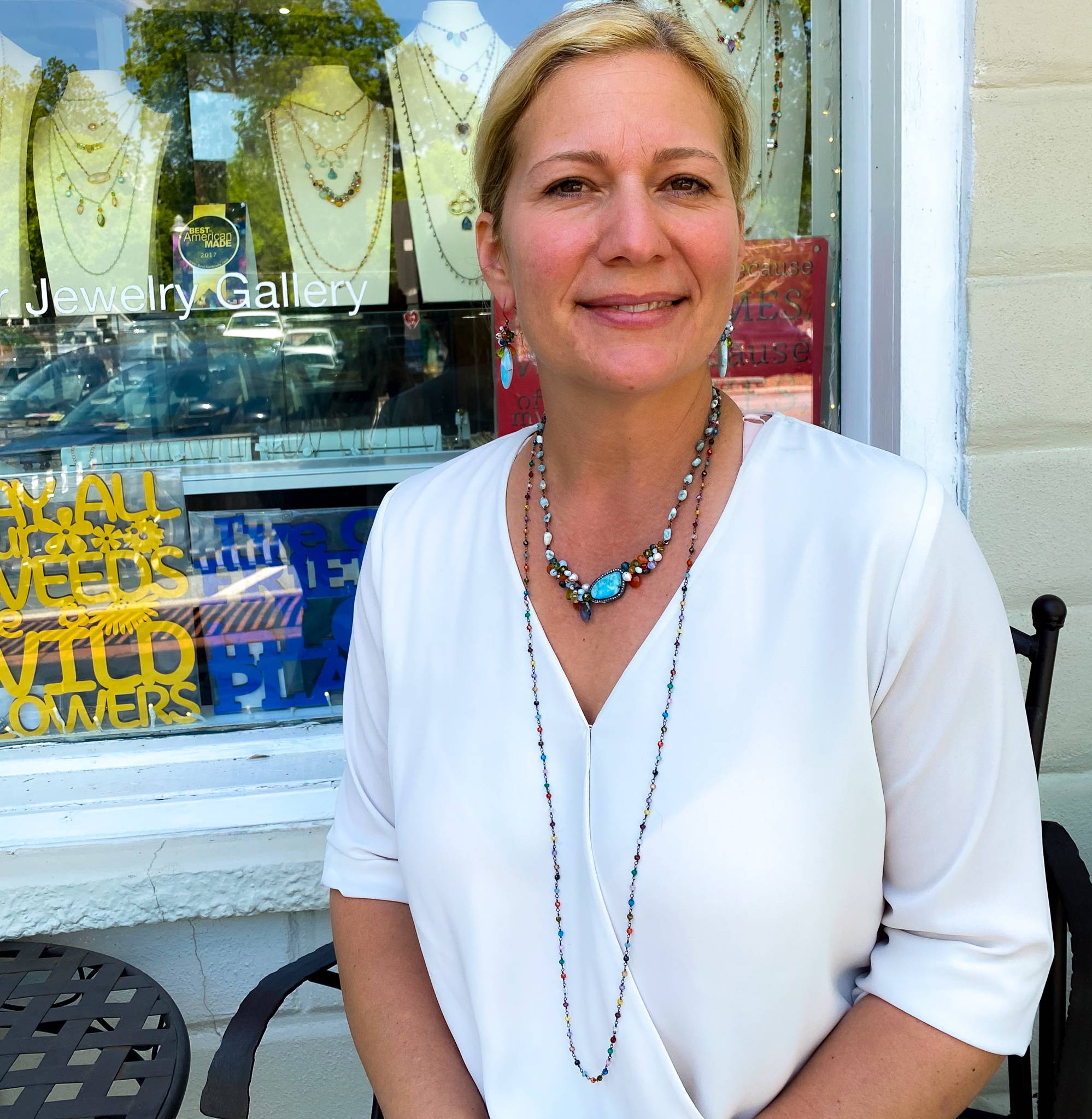 ---