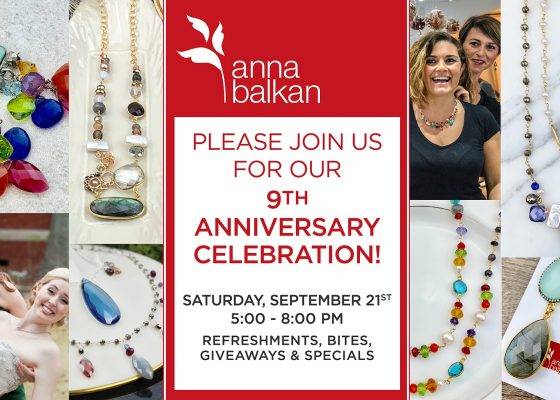 9th Anniversary Celebration!
Be our guest at Anna Balkan Designer Gallery Anniversary Celebration
Saturday, September 21, 2019 | 5 PM – 8 PM
Wow! 9 years has gone by fast. We are incredibly grateful for all the love and support from our customers – without you, we would not be here.As a "Thank you" to all of you, we would love to invite you to our celebration party and partake on some yummy bites, refreshments, specials and giveaways*. New collections will be out and many new collector one of a kind designs to choose from.No purchase required, so please feel free to stop in and be a party of this milestone.
With love and Gratitude,
Anna B and the team

*we have partnered up with our amazing Norcross local businesses for some fantastic giveaways that you will love!