Spring into Style - The Trendiest Colors for Spring/Sumer 2023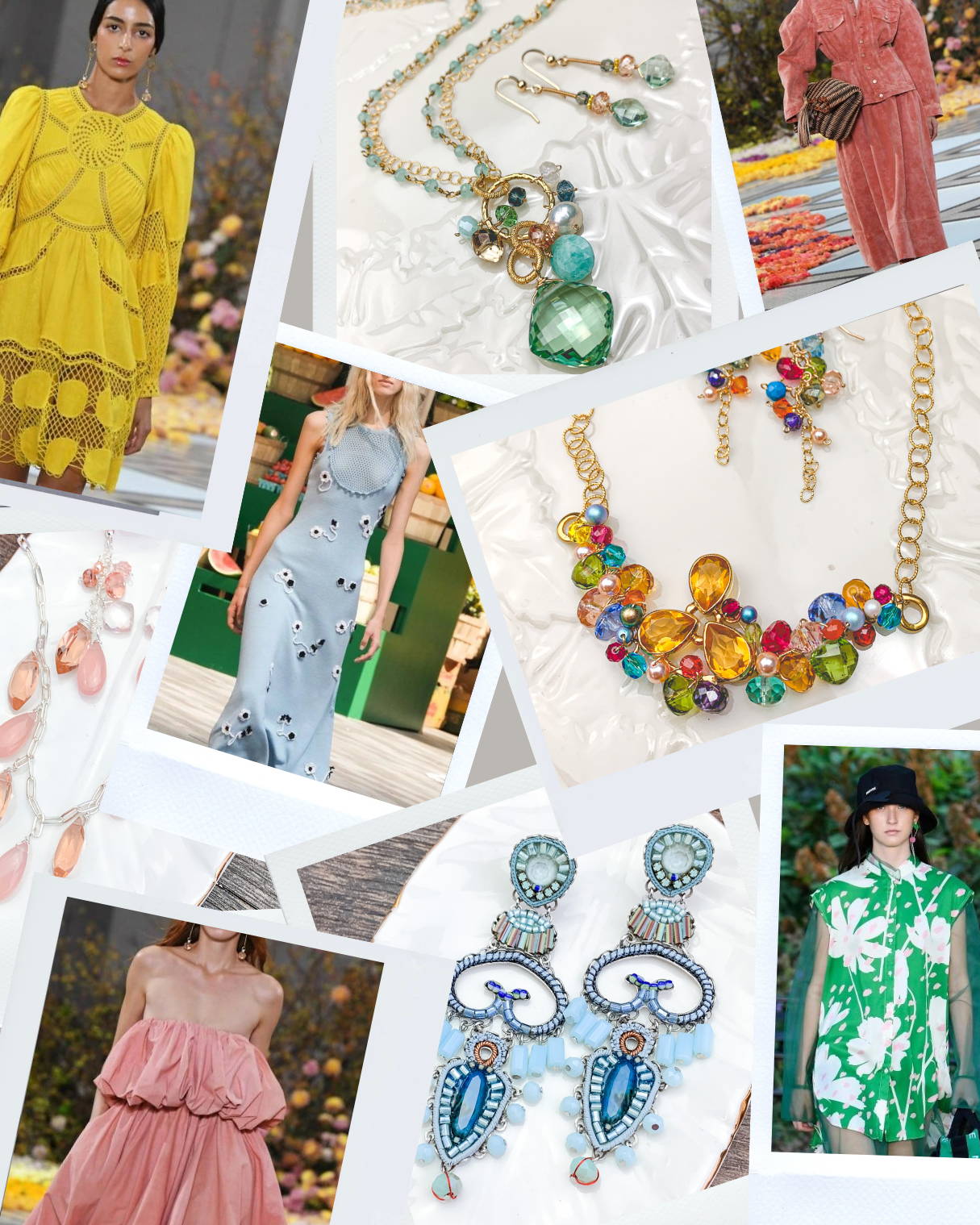 Temps aren't hot yet, but the trends for Spring and Summer 2023 sure are and we'll be taking a closer look at them this week!
If you're shopping for vacation, special event, or just want to bring a little of NYFW to your own wardrobe, these are some of the most popular colors for this season (and beyond).
Stop by our store, try on the colors and let us style you!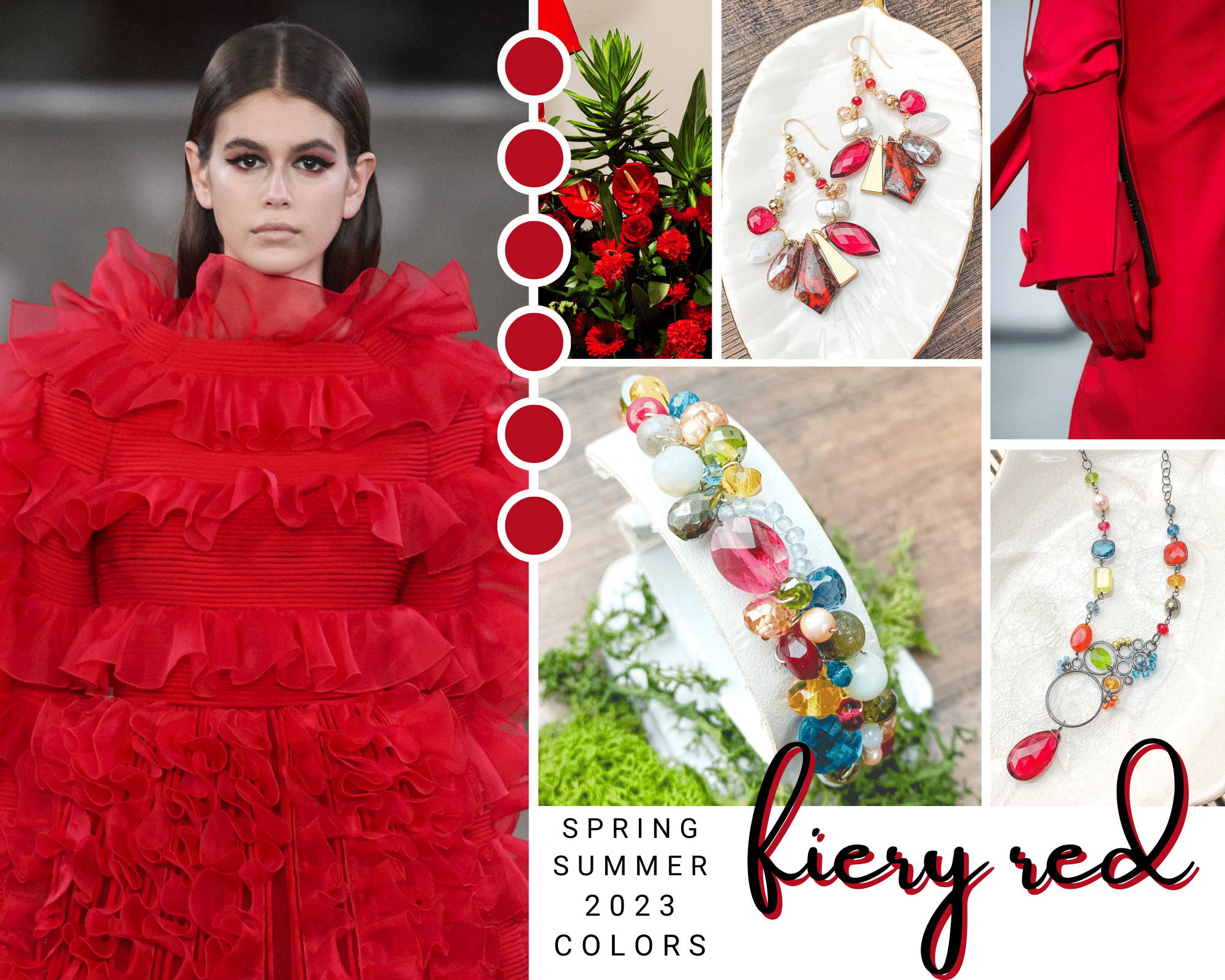 Fiery Red! This is a super charged red tone signaling an energetic intensity. Consider this a more blue-red hue, and best ways to accessorize this rich color is to partner it with pieces that have other colors in cooler pallet (in silver or oxidized silver), or pair it with a strong red piece and add on the metallics. Layering with textured metallics is a biggy this year.
Shown: Top earrings - custom signature fan style design; bracelet is my classic shepherds hook style (Colorful collection); necklace is Kim asymmetrical style (Popart collection)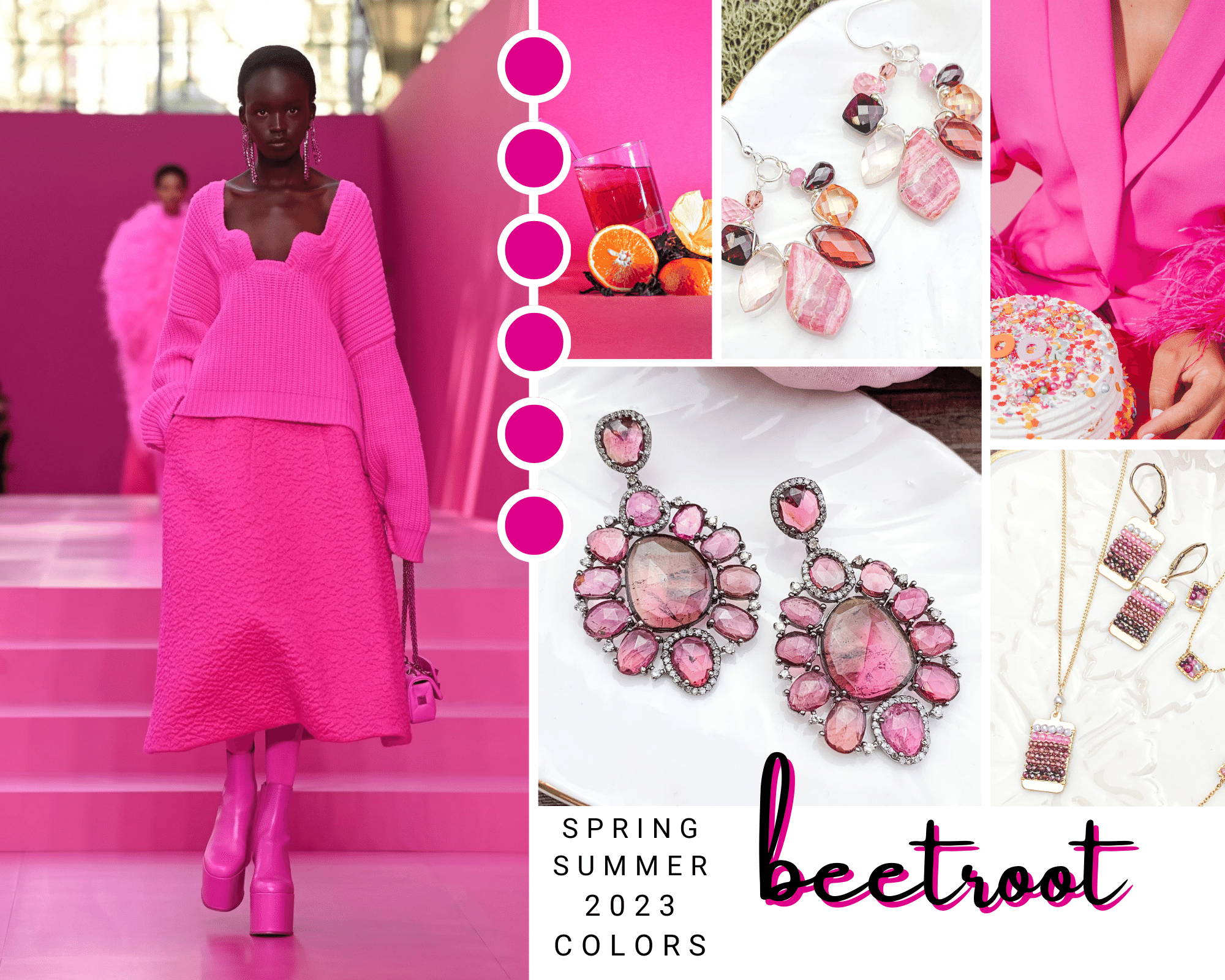 Beetroot color an emboldened fuchsia hue depicting the fruits of nature. You already see a lot of this color in stores, but how do you accessorize with this rich hue? We love pairing it with a like complementary colors (as shown above) or wearing it with vivid or moody contrasting blues.
Shown: my signature style fan earrings in pink (OOAK), Tourmaline w Diamonds earrings (OOAK), ombre of Pink Sapphires jewelry collection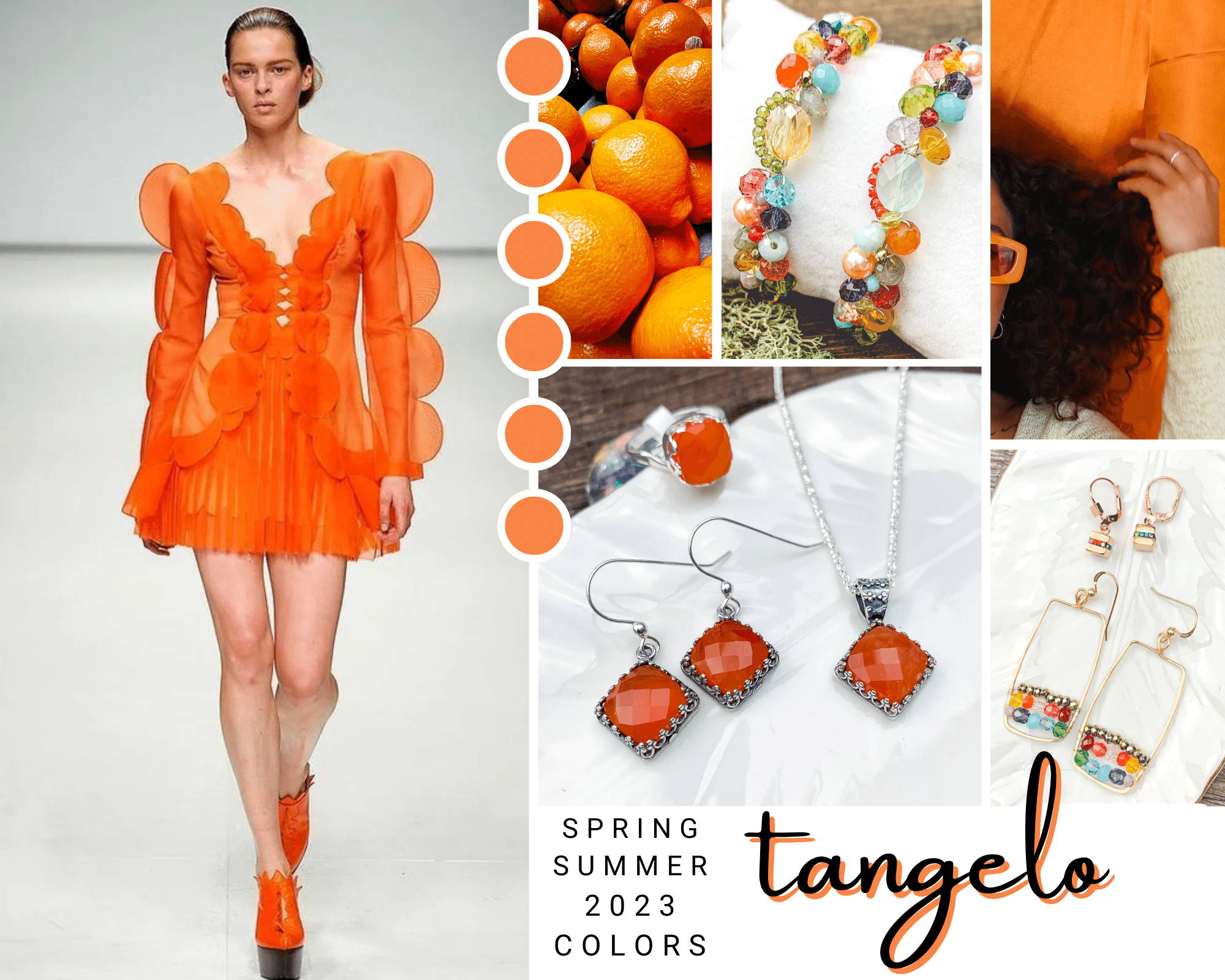 Tangelo - a tangy orange. This is a fantastic color to add to your wardrobe, even if it's just an accent piece like a scarf of purse. If this color is not your favorite against your face, then consider adding it in your socks, shoes or belt. Jewelry - Carnelian is that exact color gem, vivid and statement on it's own. We also love seeing it paired with rich array of happy bright colors.
Shown: my signature shepherds hook bracelets (Colorful Collection), Carnelian filigree pieces in silver (OOAK in-store), colorful rectangle shape hoops (Colorful Collection)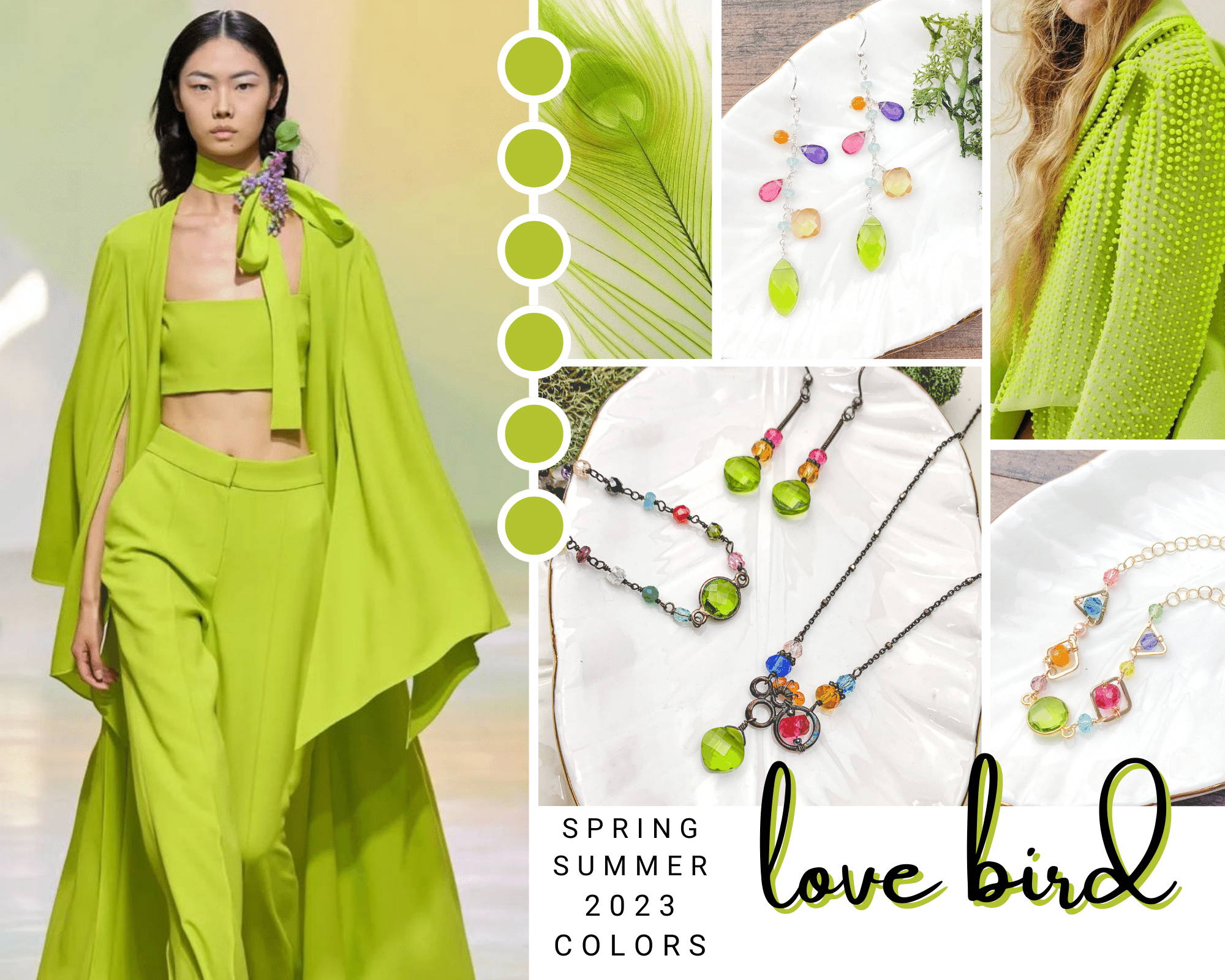 Love Bird an exotic green with a lively character. Peridot is one gem that comes to mind. This green is neon like and also has to be worn with some consideration, as if not paired with right complexion it will tend to wash you out, so plenty of dramatic intense makeup would help, or wearing it is small amounts. Adding Peridot jewelry will be an easy way to be on-point here.
Shown:Marquee earrings (Colorful Collection), assortment of Peridot pieces (PopArt Collection), rainbow of colors and shapes (Colorful Collection)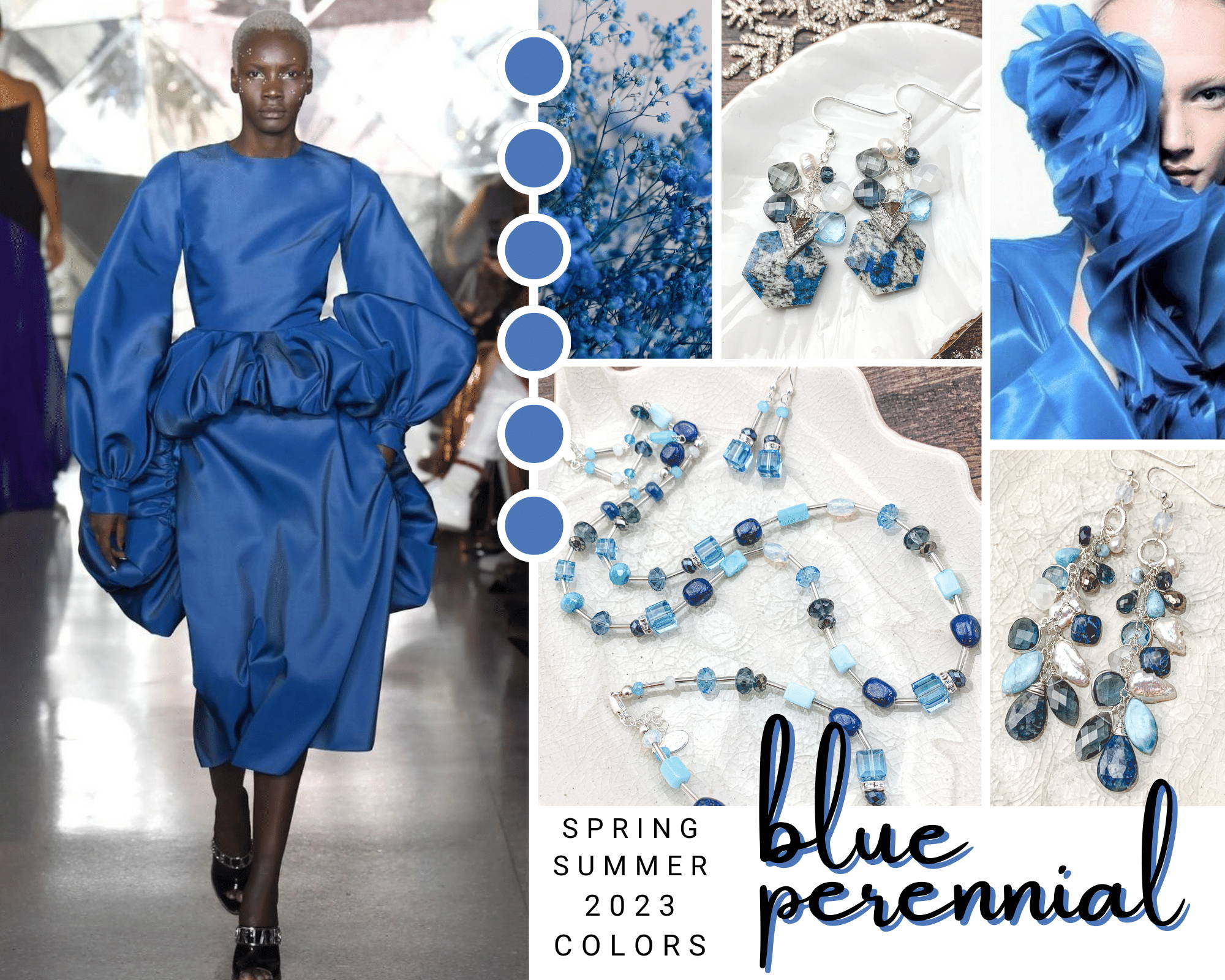 Blue Perennial - a stand-out blue that spikes the palette. Obsessed with this color and it has inspired many of my amazing pieces. Moody and yet vivid, I would recommend pairing it with Lapis, Aquamarine, Sapphires, Larimar and Topaz gems. Personally, I would stay in silver hue, and oxidized silver for a dramatic touch.
Shown: pieces from my OOAK and Denim pieces in Tranquility collections.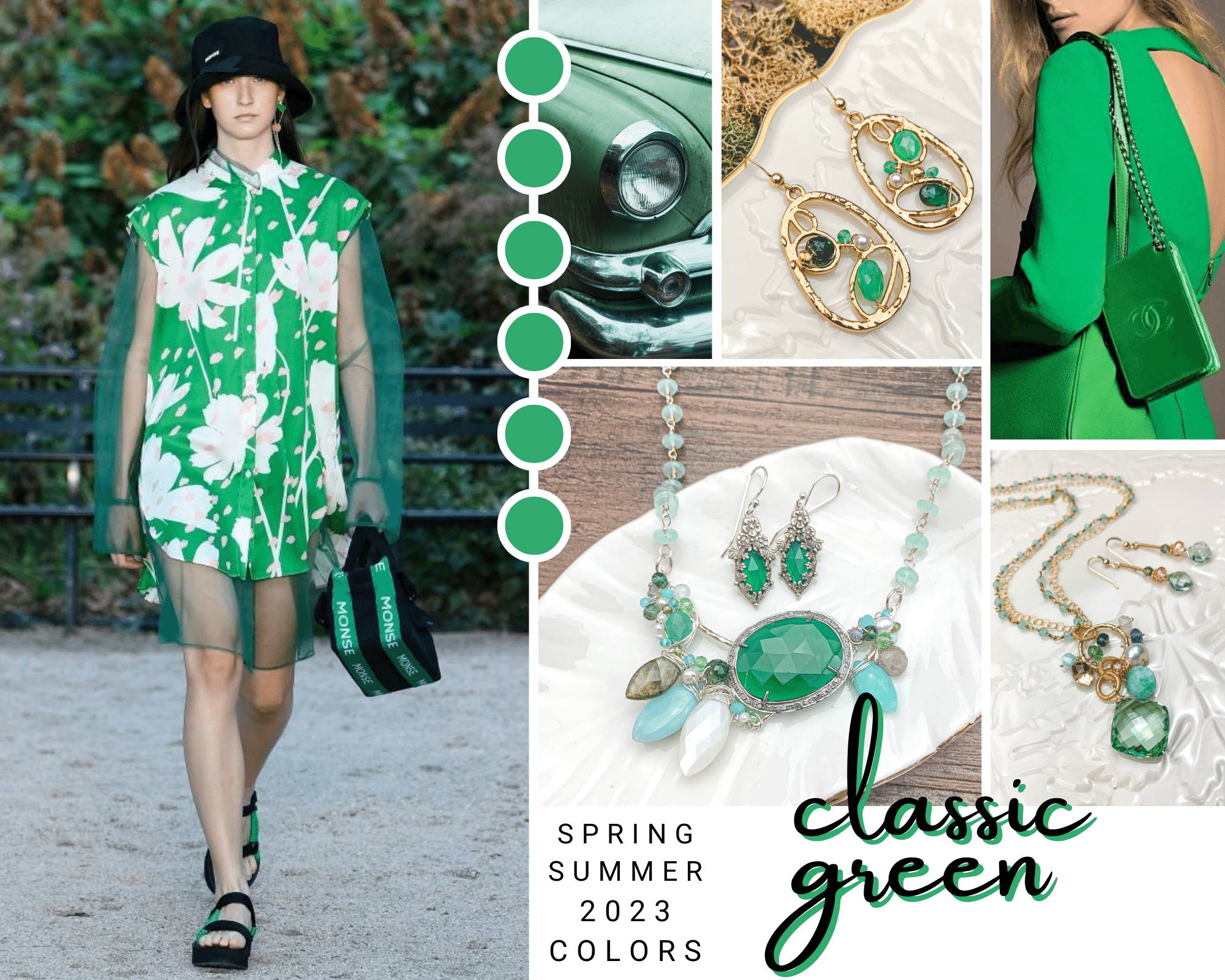 Classic Green - a nourishing green imbued with health giving qualities. This green can be a bit tricky for some complexions, but can be easily added as an accessory or a belt, scarf you tie to your purse or shoes. Adding jewelry in green to your selection is a great idea and we feature so many shades, we can help you find the best color green for you. Other colors to wear with green? Anything in Champagne/Pink/Red family will be complementary, or stay in alike colors of Blues/Yellows.
Shown: Unique Emerald earrings (OOAK), Signature Emerald Onyx w Diamonds and Larimar necklace (OOAK), Jeanie Pendant style necklace in Mint Qz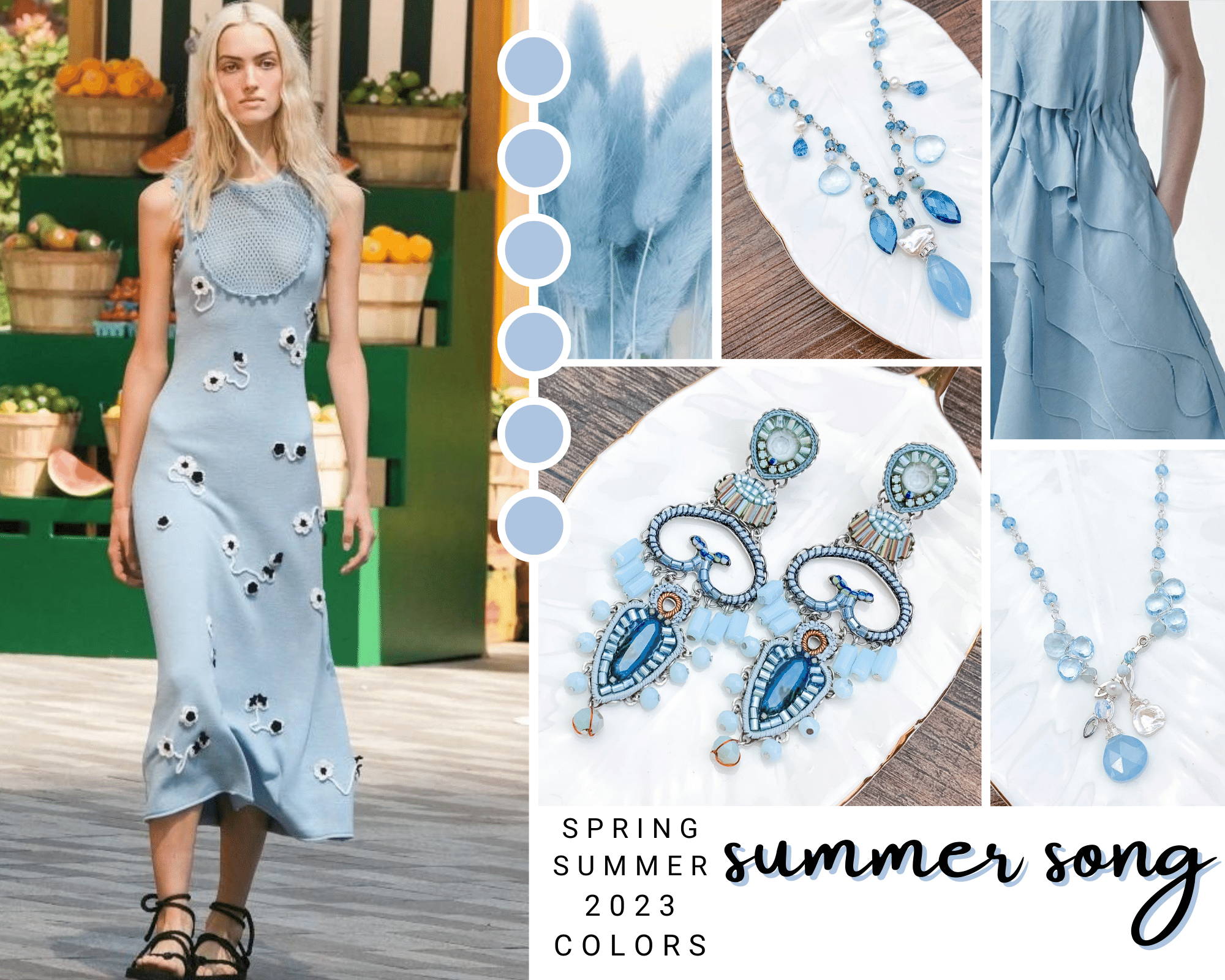 Summer Song - a clean blue tone that expresses relaxation and tranquility. This Aquamarine! Soft, feminine and beautiful on anyone. You want to not compete with other colors here, but rather complement it with alike blues and Pearls. Silver is my personal recommendation, but to make it more edgy - oxidized silver with darker blues would be fun to try here!
Shown: Elegant draping Aquamarine necklace, statement earrings from Ayala Bar we carry in our store, Aquamarine branch with Pearls necklace (OOAK)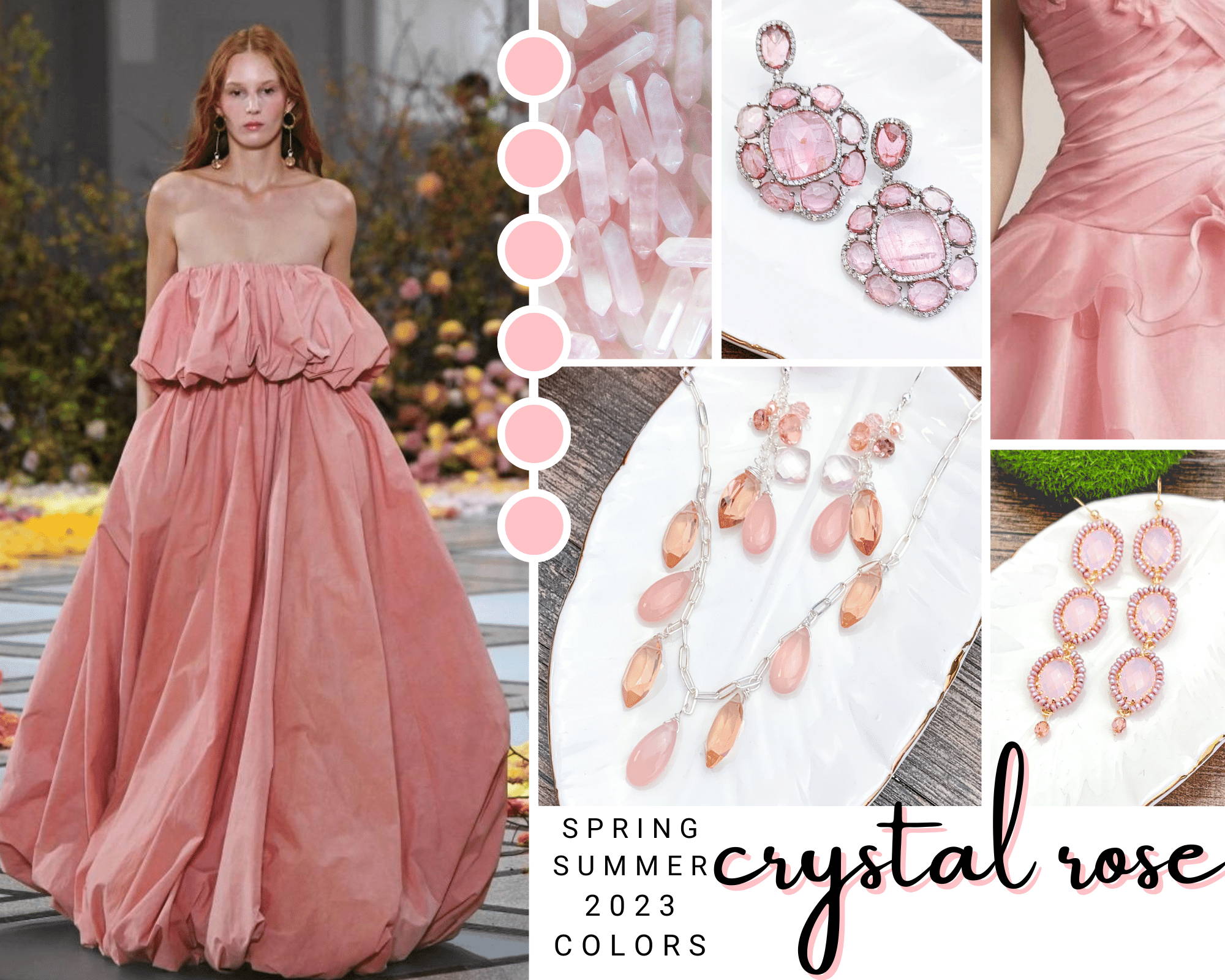 Crystal Rose - a clear pink conveying modern romance. Such elegance, one of the rare colors that everyone could wear. To make it more edgy, pair it with oxidized silver pieces with muted gems (like Green Amethyst, Marsala Qz), if silver is your choice - Aquamarine is stunning here, or play with Mint Green hue. For rich evening glam - gold is the way to go here.
Shown: Pink Tourmaline slices in Oxidized Silver and Diamonds (OOAK), Pink Chalcedony draping necklace (OOAK), Pink Opalite and Pearls earrings (Last pair)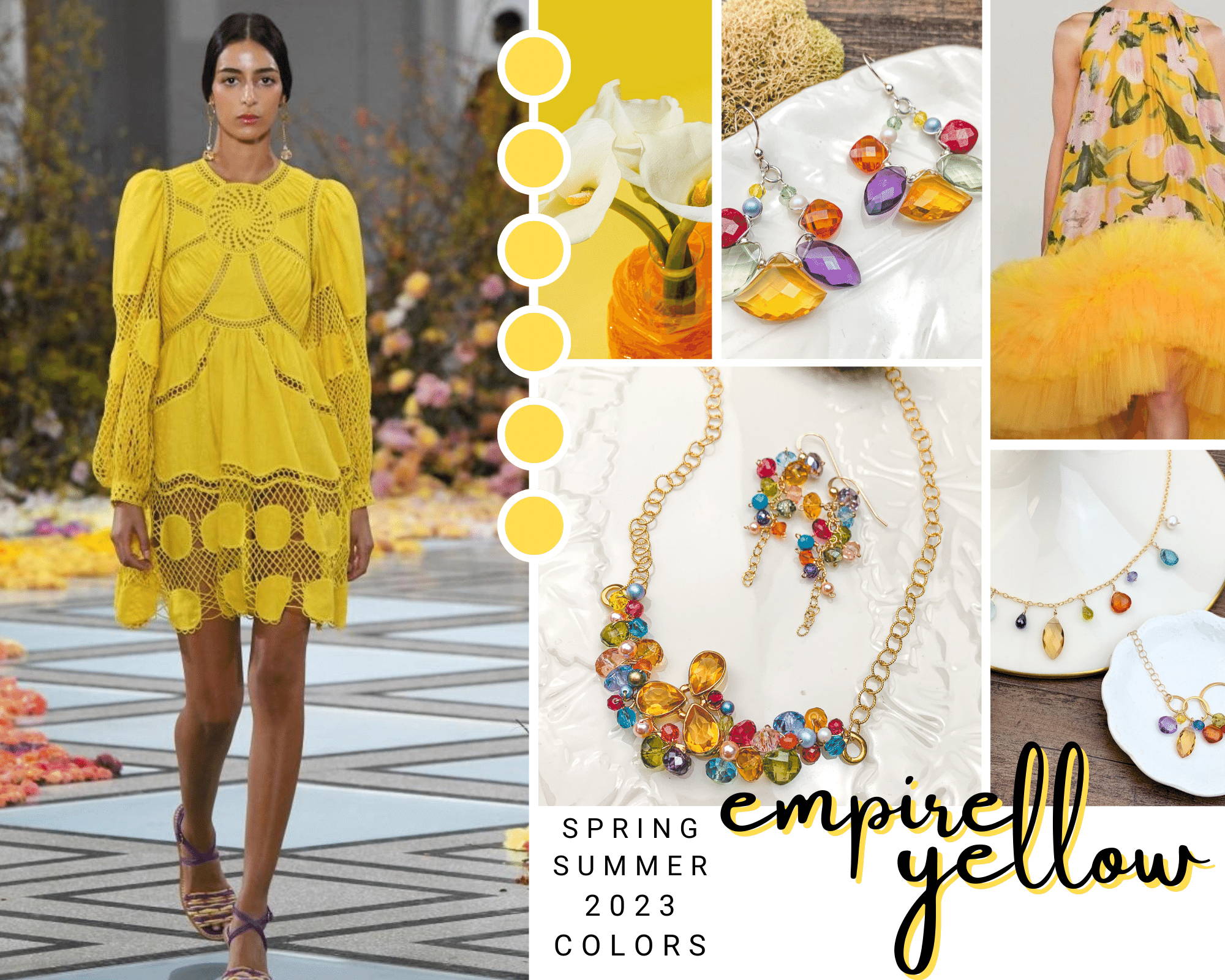 Empire Yellow - a luminescent yellow that radiates joyfulness. What a color to wear! It makes you feel happy and is one of the key gems to my "colorful formula" in my creations. You can see from the photos of the jewelry, what colors look great with it. My personal favorite is seeing this color in Gold, and oxidized silver is my second! I do not recommend cooler silver with yellow. Go big or go home, is how I feel about this gorgeous color!
Shown: Signature Fan earrings w Citrine (OOAK), Signature Ray Branch w Citrine and cascading gems earrings from Colorful Collection, Assorted pieces from Colorful Collection.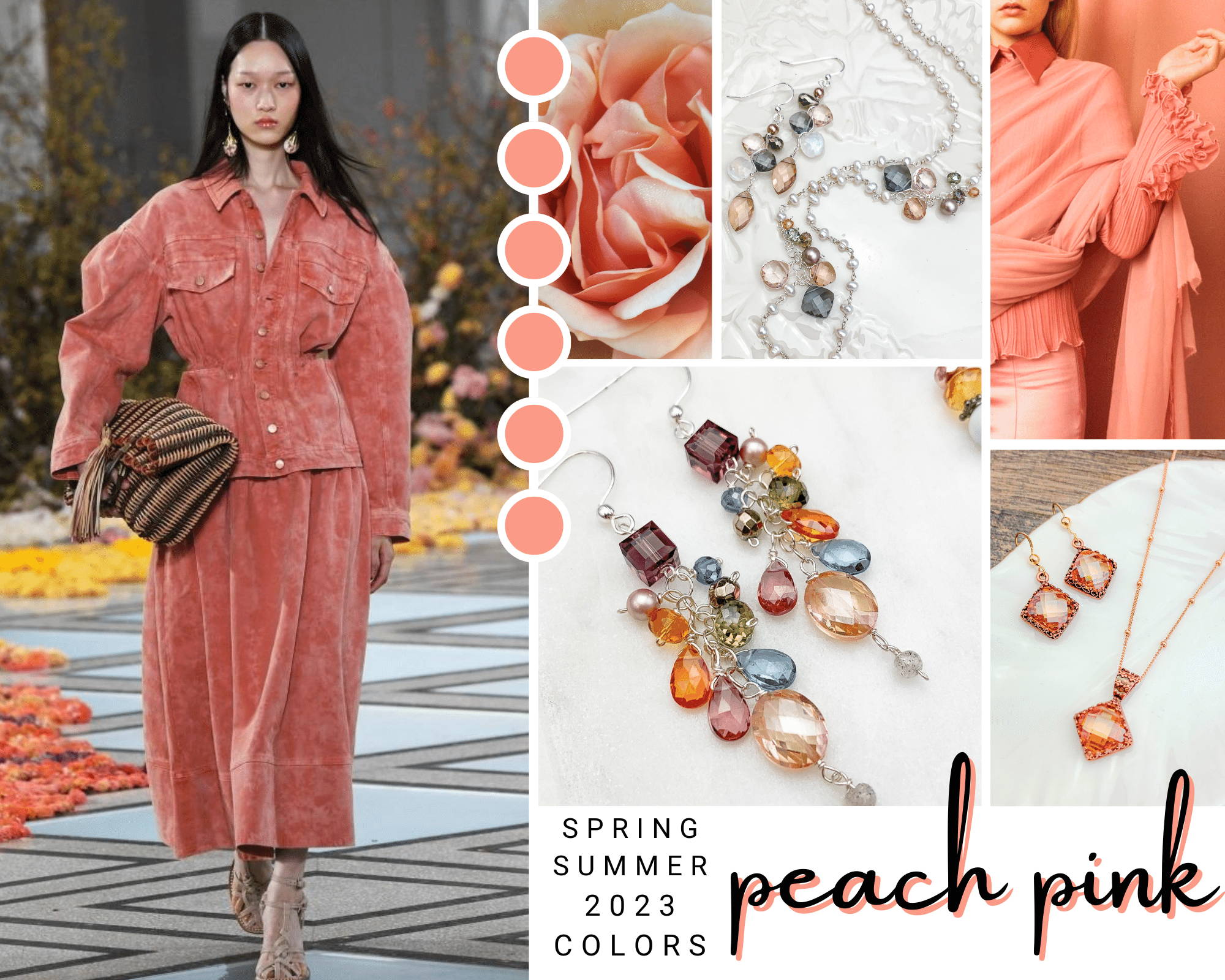 Peach Pink - a nurturing peach tone invites you in for a warm embrace. Similar to pink, but with champagne mixed in, soft and elegant. I use this gem in my Paris collection and started adding it into PopArt and silver Colorful as well. You do not want to compete with this color, work with the grain of it, add colors that soothe and balance it (see photos of jewelry for inspiration)
Shown:Kaleidoscope style earrings and long Pearl necklace from my Paris Collection, Colorful Playful Mixed shapes earrings, Champagne Qz in Rose Gold (OOAK)
---