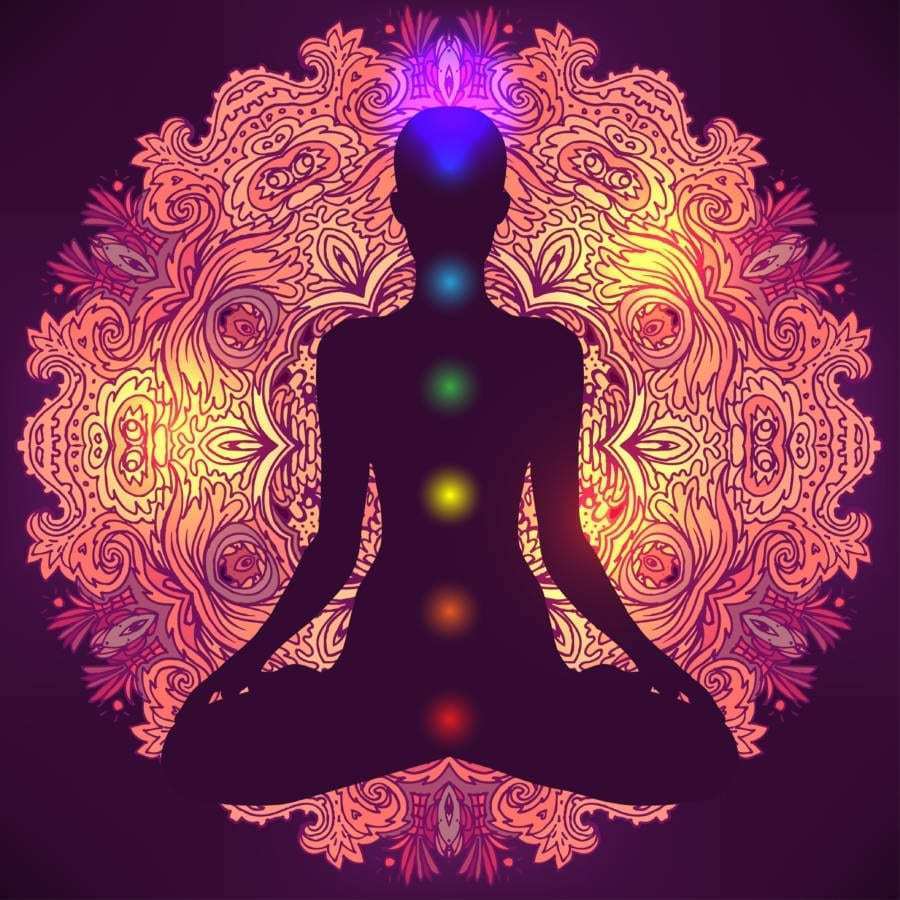 Hi #BeautifulAndCapable today's blog post is inspired by the healing powers of 7 main chakras and why it matters to me.
Over the last 20 years of my life, I began intuitively feel colors in a way that it was hard for me to describe. I felt that some colors were creating a much needed balance in my life, or stimulated my creativity. As my love and deeper feelings about color were emerging, I found myself being pulled into the world of art and began expressing my color language through varies arts, such as mosaic and textiles. Finally, once my daughter was born, it was clear that gemstones and expressing them with balance and texture in mind, was my path. I began researching different gems I was so pulled to! Did you know, that my first love were Garnet and Chalcedony, Red and Blue, colors of base/stability and voice/ability to express myself. Through these first key findings and expressing these colors together, I established my first ground of my business and secured a few national accounts such as Bloomingdales and Harrolds.
But this was just a preview of what was going to be unfolding next. As a searched my inner truth and spiritual destination my soul was craving, I started to research the energy of each color, as well as their healing properties.
I have been and will continue creating pieces that are a perfect balance of colors and energies, but if you are looking for a color or a gem you feel deeply connected to (even if it is unclear to you why that is), I would love to help create a piece for you with that color that you would enjoy wearing.
This is a very vast topic, so here is a beginning of the dialog or why colors matter to me and what they may mean to you.
The professional identify of this chakra, Muladhara, comes from the phrases Mula, because of this root and Dhara, meaning support. So, this chakra's position is to put your entire vitality with the Earth, which is known as grounding. in the event you bring to mind your Root Chakra, recall to mind your everyday survival in this place on earth. This power center's position is to offer you the whole lot you want to survive. For us on this up to date age, that normally interprets to monetary and emotional security.Red has the densest palpitation of the colors, and is probably the most stimulating. It instantly pulls your attention. Bring to mind how you are feeling in case you see a traffic light. The root chakra alerts the cautionary side immediately, and we act appropriately.Red symbolize vitality, action, assurance, bravery , and alteration. The color red brings eagerness and vigor to your relationships, your lifestyles, and your work. Red spiritually effects stableness, security, grounding, bravery, action, physical and emotional endurance.
Orange symbolize confidence, delight, and passion. A color that is outgoing, creative and fun. It is the color for the second chakra of the cycle, the sacral chakra.
Also known as Svadhishana meaning "the place of self", your sacral chakra embodies your identity as a being and carries creative energy to help enhance your life. It helps make your time here on Earth more enjoyable. Orange stands for development, the ability to create new things, delight, acquisition, a connotation of energy and liveliness. It is composed, bright, and independent with the energy flowing from your lower abdomen and naval.
There are multiple levels of depth when it comes to what the color orange means for the sacral chakra, such as your physical, mental, emotional, and spiritual levels. On a physical level, orange pertains to the colon, bladder, and gallbladder. It is an element of the digestion and assimilation.
On a mental level, orange power is balance, durability, and nourishment. It's an integrated part of our physical development.
On an emotional level, orange is a shade of shock. It may possibly excite us, dazzle us, or vex us. But even with this, it should be seen. It's a color of depth and power.
On a spiritual level, orange energy may be very non secular as a result of it helps to transform refined vitality into power that will most likely be utilized by the body.
Too little of orange and we grow to be cold, skeptical, fearful or wary, and oversensitive. We hole up our feelings and are quickly hurt. This could result in turning into being distrustful of others, closed off, unable to indicate emotions, being too caught up in what others think.
Brighten up your day with a little orange.
The yellow chakra is known as the Solar Plexus or Manipura, which interprets to "lustrous gem." This chakra is the place of your self-confidence, individuality, and private energy are born. Most of the people say they get these varieties of feelings in their stomach, also know as a gut feeling. In reality, that is the seat of your individual power, the solar plexus, where you could physically feel that self belief and knowledge in its location. Yellow symbolize vitality, brain power, and on top of that the connection an individual has with fire and the sun.The color yellow has remained know for expertise and wisdom throughout your life. It aids reasoning, memory, concentration. Yellow is stuffed with ingenious and mental energy. A "sun color", it makes us really completely and hopeful. It lifts the soul. Yellow represents contentment, readability and sunlight. A stimulating, delighted and clever color, yellow is optimistic, bold and stuffed with self love. The durability of yellow shines brilliantly like a newly found sun, and enlightens the I in you.
The color Green is our efforts, will increase love, kindness and kindness. It is great for working outside in nature. It increases treasures and excellent fortune. Green enhances the heart, lungs and respiratory system. It helps illnesses. It can alter the aspect of a panic attack and addiction. Green represents copiousness, revival, development and nature. It's a harmonies, and soothing color. It is a therapeutic shade that offers healing vitality to the heart. This color is the color of grace. It as well as capacity learning, growth, revival , and harmony. inexperienced is the color of nature. It brings peace and unity into our lives. It's the color of therapeutic and promise, optimism, liberty, and poise. Also known as the Anahata chakra, which interprets to "unhurt." This chakra is the place your love, compassion, and empathy are secreted.Although pink or red could logically be the primary colors that spring to mind when thinking of the heart chakra, this lively environment is really connected to green. This chakra represents the power to provide and obtain love, understanding, growth, empathy, serving those around us, benevolence, wellness, and healing. The color of life. Green is naturally calming, healing, and supportive.
Blue, the unclouded sky of sheer creation. Blissful, clear, tranquil, and honest, blue is the place issues decelerate and take heed to the motionless waters underneath for the truth. This can be a mentally-relaxing color. Blue has a calming impact on the nervous system and brings enormous leisure actions, with it being suited for people with sleep problems and hyper-active children. It connects us to comprehensive thought, and provides us knowledge and readability improving verbal exchange and speech.Vishuddha interprets to "very pure." This chakra presents a voice to your individual truths. Blue means communication and self reflection. It stimulates the capacity to keep up a correspondence of one's deepest truths. The steadiness of the color blue brings sense, inspiration, sincerity, serenity, happiness, tranquility, religion in oneself and have confidence in others. Blue will increase profession opportunities, business, wealth, and management qualities. Blue is nice for stretched distance conversing or moves. Blue is the color of healers, it's a pure antiseptic. Blue energy is pure, soothing, calming, and healing. Blue is closer to the cooler end of the spectrum, the place issues reduce down, permitting you to acquire time to be still.
Being a mixture of blue and violet, Indigo is the color of expertise, glory and instinct. Being called the third eye it translates meaning "beyond wisdom". The third eye chakra is our connection to the non secular world. It pulsates with the mystical, spiritual phenomena that may develop availability to you as soon as all the chakras can calm down and are clear and activated. Ajna, another name for the third eye, brings deeper working out of things. Insights and connections which can be at all times they are, but not at all times sensed. Indigo, often known as royal blue, is the color of the night. There's an extent of renewal and change in this shade that connects us to area and time.Indigo pertains to self-responsibility, being accountable for its own life, to blame to oneself to put in place the soul's direction and desires and trusting one's own intuition. the power to see things from the next point of view instead of purely for delight of the ego or one's subject comfort. The Indigo power connects us to our unconscious self, and allocates us to the expertise of being apart of the universe. Indigo strengthens intuition, imagination, psychic powers, and can increase dream activity.
Sahaswara, which translates to "thousand petaled." This chakra is pure consciousness energy. The Crown chakra is one of those energies that's hard to explain. You can think of it like magnetism. A balance of red and blue, instilling each energy and dignity. Violet is the color of spirituality. It is the color of individuals in quest of religious fulfillment. It helps us align ourselves with the oneness of the universe, understanding we're highly effective and in control. The Crown Chakra is setting knowledge and being one with the world. Violet represents transformation, creativity and non secular awareness. It's a shielding, smart, and a royal color. Violet is related to instinct and the magical facet of life.Violet, the best vibrating color, is certainly magic, purifying, and a thriller that brings collectively the polarities of the world. This chakra is as well as related to white and gold. The crown chakra, on top of referred to as the crown lotus, or the thousand-petaled lotus, is probably the most faint of the chakras. It exists on the very top of the head, the place a crown would sit, on the subject of the cerebral cortex. It's the end result of awakening Kundalini vitality, meaning centered energy, in your complete chakras, which rises up the backbone to the crown chakra and causes non secular awakening.
What ever is your choice of chakra color for yourself or for a loved one, you will receive my best selling Kailey silver and gem necklace, bracelet and earrings to coordinate, plus a mini wooden Namaste sign (most popular in my store) that can be placed on your desk or on a shelf standing or laying down.
---